Material: Galvanized, aluminum, copper, stainless steel, etc.

Head Type: Umbrella, sealed umbrella.

Shank Type: Twisted, ring veins and smooth types available (optional)

Finish: Electric galvanized or hot dipped galvanized

Point: diamond or blunt.

Diameter: 8–14 gauge.

Length: 1-3/4″ – 6″.

Head diameter: 0.55″ – 0.79″.

Features:
1.Length is from the point to the underside of the head.
2.Umbrella head is attractive and high strength.
3.Rubber/plastic washer for additional stability & adhesion.
4.Twist ring shanks offer excellent withdrawal resistance.
5.Various corrosion coatings for durability.
6.Complete styles, gauges, and sizes are available.
Roofing nails, as its name suggests, are designed for roofing materials installation. These nails, with smooth or twist shanks and umbrella head, are the most used type of nails with less cost and good property.
Umbrella head is designed for preventing the roofing sheets from tearing off around the head of the nail, as well as offering an artistic and decorative effect. The twist shanks and sharp points can hold wood and roofing tiles in position without slipping.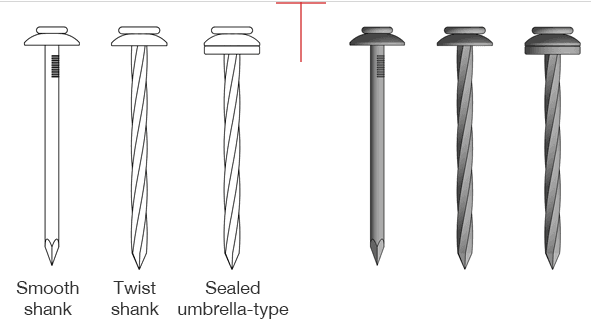 1.Application: Roofing nails are widely used for roof installation, fastening roofing felt, roofing flashing, woodworking, or other construction industry fields.

2.Package
Bulk packing: packed with humidity resistant plastic bags, binding with PVC belt, 25–30 kg/carton.

Pallet packing: packed with humidity resistant plastic bags, binding with PVC belt, 5 kg/box, 200 boxes/pallet.

Gunny bags: 50 kg/gunny bag. 1 kg/plastic bag, 25 bags/carton.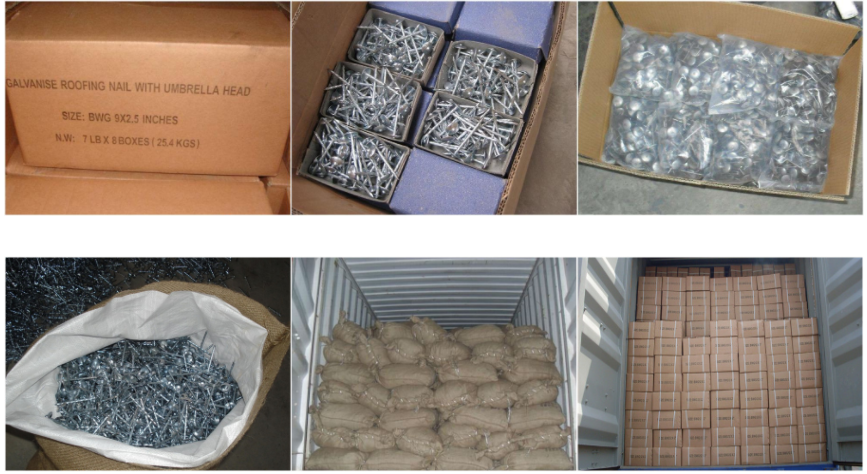 3.Our services:
(1). Good after-sales service: Any small problem happening will be solved at the most prompt time.
(2). We have many years of experience, we have to specialize in the fastener.
(3). Specifications list is available upon your requirement.
(4). Packing as your request before shipment.
(5). High quality and competitive price.